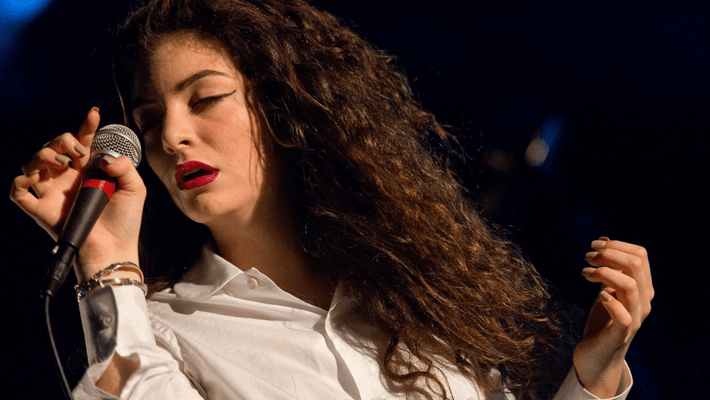 Top Strains to Listen to Lorde's New Album With
Who is Lorde?

Well, if you've been living under a rock for the past decade, you're in for a treat. Born Ella Yelich-O'Connor, Lorde is a singer/songwriter out of Auckland, New Zealand who is a force to be reckoned with.
She is a voice of youth culture, as she smartly forms verses about suburban boredom, heartbreak and finding happiness once more. She's introspective, unconventional and will always give you something you'll never expect as she grows and evolves.
Lighting Up with Lorde
Below are some of Lorde's signature songs that are both international chart-toppers mixed in with some lesser-known ballads, along with the best cannabis strains to get you in the mood for her melodies.
400 Lux & Sugar Candy

This song off her debut album opens with an intoxicating drum line. It's not in your face or over the top, it's steady and sets the tone for a calm, yet introspective moment as she's driving during sunrise with her lover next to her. You need a strain to match this vibe, so grabbing the indica-leaning hybrid Sugar Candy with a 23% THC is the move here, which is a cross between Caramelo and Sugar Black Rose. Who says it's sativa vs indica when you can just have it all, wrapped up in a hybrid strain? It packs a flavor punch, with terpenes limonene and linalool present, delivering a euphoric yet hazy and meditative high.
Solar Power & Golden Pineapple
Lorde is usually our go-to girl to be sad, but with this upcoming album, she's telling us that it's okay to finally be happy. This song emits nothing but sunny days, toes in the sand and enjoying the simple pleasures in life like a day at the beach. You can be just like Lorde herself hitting a pineapple bong in the music video, or just grab some delicious hybrid weed like Golden Pineapple that will transport you to the tropics with its flavor profile. Golden Pineapple boasts a THC content of 18% with a big terpene profile high in terpinolene, myrcene and caryophyllene, making it one of the best hybrid strains. The genetics of this hybrid comes from a cross between Pineapple Kush and Golden Goat. With an aroma of pineapples, Golden Pineapple is a great strain for creative endeavors while keeping you uplifted all day long.
Liability & Elektra

This song is quintessential sad Lorde, in the best way possible. This ballad is a moving one, and who said there is anything wrong with a good cry occasionally? We want to feel what she is in this song, but not get too sad in the process. One of the best weed strains for this song is among the most popular strains in the CBD world and is a cross between ACDC and Early Resin Berry. Elektra comes in with a CBD content of 17% that is going to keep you calm and keep the anxieties away as you listen to such an introspective ballad. You'll feel like a refreshed version of yourself with this strain that is high in myrcene, with notes of red wine and chocolate.
Stoned in the Nail Salon & Blue Dream

Many of the stoner girls out there can relate to this one. On the outside, this song is light and airy. However, looking deeper, she ruminates about her past self and the time that is passing by her. For a song title like this, you'll need one of the best strains of all time to accompany it, and why should you have to choose between indica vs sativa? Blue Dream is a sativa-leaning hybrid with 18% THC that is a cross between Blueberry x Haze. Get that cerebral stimulation before settling into a deep-set relaxation for the day - with this tune playing in the background. High in myrcene, you'll be tasting sweet berries all day long.
Buzzcut Season & Dolato (Do-Si-Lato)
She has a knack for describing her youth and adolescence in such a poignant way, and this song is a clear example of it. Its electro-pop meets moving ballad with distinct percussion snaps, all while discussing modern life and its ridiculousness. Next on our list of strains is Dolato, an indica that comes in with a THC content of 19% that is high in limonene. A cross between Gelato #41 and Do-Si-Dos, you'll find a lavender taste coupled with an earthy aroma. This may be among the best strains of weed for some much-needed unwinding and sedation, as you slow down to the percussions in the background.
Ribs & Blue Cheese

As another song off her debut album, Ribs recently stormed back into the mainstream through none other than Tik Tok. As a true connoisseur of discussing growth, her lyrics here say it all as she sings, "Feels so scary getting old" and "I want it back, It drives you crazy getting old." You can lean into the emotions of the song with many different strains of weed, but here we love the flavorful indica, Blue Cheese. A cross between Blueberry and U.K. Cheese, this high myrcene strain with 17% THC delivers a sweet and savory quality with a hash-like aftertaste. When smoking Blue Cheese, wait for feelings of sedation creep in slowly, just like this song, until you are in full relaxation mode.
Do you ever light up with the queen, Lorde? Do you find yourself pushing play on her happy or sad songs more? Tell us all about it below.