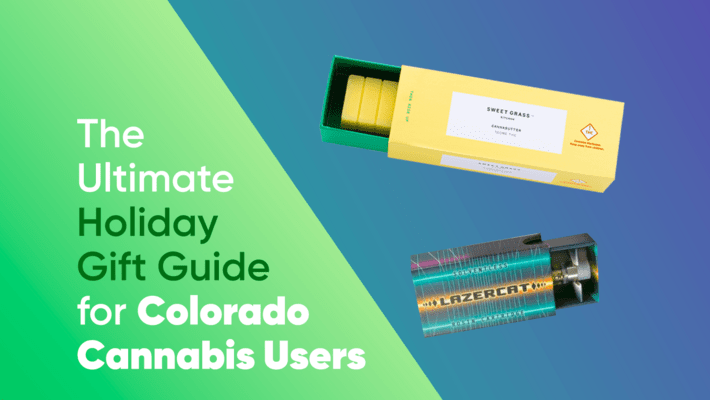 The Ultimate Holiday Gift Guide for Colorado Cannabis Users
The holidays are already quickly approaching, and there's no better time to start gift shopping than today! The earlier you start shopping, the more time you have to find the perfect gift at the best price. If you live in Colorado and are looking for the best cannabis gifts for the stoners in your life, you've come to the right place. Check out our list below to jumpstart your 2022 holiday shopping season!
The Holidays in Colorado
As you probably know, the holidays in Colorado can be some of the most beautiful months of the year. October gives way to crisp mornings, the mountain tops get a beautiful dusting of snow, and then winter follows for everyone. Whether in the Denver metro area, north in Fort Collins, or south in Colorado Springs or Pueblo, you can expect to see dozens of inches of snow throughout the holidays and winter. If you're up in the mountains in towns like Breckenridge, Vail, or Aspen, you can expect even colder and snowier weather!
Colorado is a great place to enjoy holiday festivities and cheer, but it's also a great place to stay cozy and warm inside when you're not out skiing. To ensure you don't have to brave the cold to get last-minute gifts, we highly recommend getting your Colorado shopping out of the way earlier than later. We also suggest checking out the list below for great gift ideas! Since there are dispensaries throughout Colorado, you should be able to find these gems without hassle.
8 Colorado Cannabis Gifts
Since this is a gift guide for Colorado, most of the gift ideas we list below will be available in local dispensaries throughout the state. To see if a dispensary near you offers the product you're looking for, make sure to check it out on Where's Weed.

There aren't many brands that can offer as many delicious edibles as Sweet Grass, a company that prides itself on cookies, brownies, and pies. Sweet Grass is an excellent option if you have a friend who likes to make their own edibles. They sell a cannabutter perfect for mixing into your homemade recipes. For just $20, you can gift the joy of baking and getting high. Each stick of butter is infused with 100mg of THC. Sweet Grass sells its products in Colorado dispensaries, so check them out at your local dispensary!

This inspired company pays attention to details, and their live rosin gummies are a fantastic gift because of it. No matter the flavor you choose - guava, white peach, passion fruit, prickly pear, papaya, hibiscus, or blueberry lemonade - you'll be gifting a full-spectrum experience that offers a high-quality high every time. They are vegan-friendly, solventless, and delicious. While Akta may be newer to the Colorado cannabis scene, they've already made an award-winning name for themselves. They are available throughout the Denver metro area, including dispensaries in Boulder, Thornton, and Longmont.

Dialed In Gummies have been around for a minute, but their new Liquid Gummies are new to the scene and sure to be excellent stocking stuffers. This unique product is made with live resin and simple syrup, an excellent combination that makes it easy to add to any drink or other recipe. The flavors currently available include, but are not limited to, Strawberry Guava, Trop Cookies, Greasy Gushy Grapes, and Maui Wowi. Each vial comes with 100mg of THC and can be found in local dispensaries throughout the Denver metro area for roughly $35 each.

Marketed as "the original cannabis coffee," Canyon's nitro coffee is a great gift for anyone passionate about coffee and cannabis! It combines two of the most enjoyable things in the world - what's not to like? Each can of nitro coffee boasts 10mg THC and a whole lot of flavor for just $8. Canyon is a Colorado-based, women-owned, family-run business that distributes its products throughout Colorado and California.

If you have friends or loved ones who prefer candy to other edibles, then Joyibles' Joybombs are the perfect gift! You can grab a bag of Joybombs for just $20 - each bag offers 100mg THC, with each piece of candy at 2.5mg THC. The low dosage per serving makes this the best option for microdosing, which is a great option for holiday parties and vacation days. There are several flavors, including sour fruit, tropical haze, and original fruit, all of which can be found in dispensaries throughout Colorado, including the Denver metro, Fort Collins, Grand Junction, and Pueblo.

Lazercat is a staple Colorado brand that proudly offers everything single-sourced, meaning they grow, process, and package everything they sell. The strains they offer rotate, so we highly recommend checking out their website for a better idea of what is available at the time of purchase. No matter what you choose, their cartridges are an excellent option for anyone you know that enjoys vaping. Their solventless cartridges pack a lot of flavors and strong, fast-acting effects for around $50 per cartridge. And, if you want to outdo yourself this holiday season, you can purchase a Lazercat Vision Spinner 3 batter to go along with a cartridge, so they have everything they need to start vaping in style.

Another excellent stocking stuffer option is a tin of Mr. Moxey's Artisan Mints. Each designer tin costs roughly $15 to $30 and comes with 20 mints. The cost and effects depend entirely on which type of mint you choose to gift. Deciding which to buy should be easy enough since they are all mood-coded. Your options are Zen, Relax, Energize, Balance, Relief, and Dream. Various ratios of CBD and THC are used to create the desired effect as described by the mood title, meaning that you can gift to the personality of your stoner friend or family member. Because these are low dosages, great for microdosing, and have many high-CBD options, Mr. Moxey's is one of the better gifts for people who want to try out cannabis for the first time. These mints are incredibly popular and can be found in most dispensaries throughout Colorado, Oregon, Washington, California, and Massachusetts.

Binske is known for various edibles, but their chocolate bars are especially out of this world and are the perfect gift for any chocolate-loving stoner. Over the last few years, they've expanded their line to include options like Almond, Espresso, Hazelnut, Raspberry, Sea Salt, Strawberry, and Classic. These bars can be found in dispensaries throughout Colorado (especially in the Denver metro area) for about $10 and sport 100mg THC each. Not only are these chocolate bars great gifts, but they're also a tasty dessert or treat to have at your holiday parties!
Do you do a lot of cannabis holiday shopping in Colorado? Let us know what your favorite cannabis gifts are and where we can find them. Comment below!