One of the fastest-growing cities in the nation, Phoenix has a ton to offer anyone that wants to be a permanent resident or simply visit. This sprawling city is home to some of the best food in the state, tons of microbreweries and gorgeous parks and trails. Not only is Phoenix a quickly-growing cultural hub that's attracting people from all walks of life, but it's also near many other cities with their own unique cultures and attractions. On top of that, the metro area is surrounded by the Sonoran Desert, stunning nature that stretches on for miles in the most picturesque of ways. Roads perfect for biking, parks meant for climbing, and a city built for spacious urban adventuring – Phoenix is home to anything and everything.
As Arizona's largest city and biggest cultural hub, Phoenix also happens to be at the heart of the state's cannabis culture. Arizona legalized medical marijuana in 2010 and just recently legalized recreational weed in November 2020 with Proposition 207. Phoenix has long been home to dozens of medical dispensaries, and with recreational licenses likely to be approved starting March and April of 2021, the marijuana scene will likely flourish under the new laws. For now, however, while recreational weed is legalized, only medical marijuana is available. Dispensaries in Arizona usually operate somewhere between the hours of 7 AM and 10 PM and some even offer delivery. Additionally, under the new legalization, you are allowed to grow up to six marijuana plants per adult at your residence (up to 12 plants per household). Please do note that marijuana is not allowed to be smoked in public and it is always illegal to drive while under the influence.
Phoenix Resources:
https://kjzz.org/content/734707/later-hours-phoenix-medical-marijuana-dispensaries
https://www.phoenixnewtimes.com/marijuana/arizona-legal-marijuana-faq-answers-experts-legalization-prop-207-law-11510843
https://www.azcentral.com/story/money/business/consumers/2019/04/20/420-weed-day-marijuana-arizona-what-you-need-know/3508796002/
Read More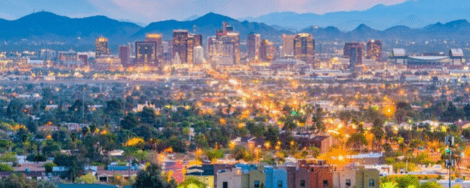 Visiting Phoenix?