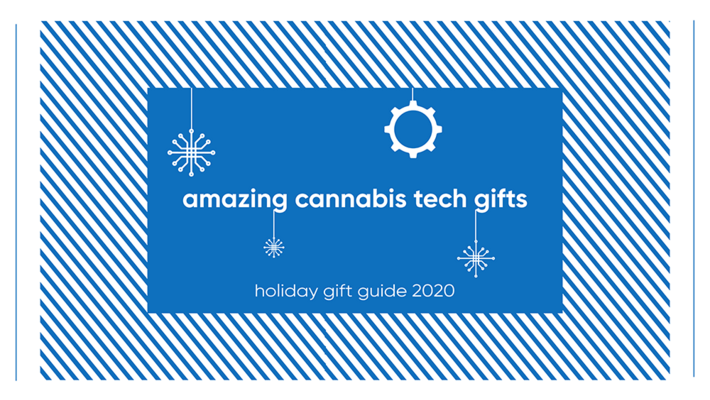 Holiday Gift Guide 2020: Amazing Cannabis Tech Gift Ideas
It's that time of year again, and no matter what holidays you celebrate, there has never been a better time to surprise the cannabis enthusiast in your life with some new gear. We're all spending more time at home this holiday season, but luckily, there are enough technologically-advanced smoking accessories to make every stoner happy. Parallel to rapid advancements in cannabis cultivation and extraction, smoking devices, grinders, vaporizers, and other marijuana tools have stepped into the 21st century to make your cannabis experience smooth, sleek, and simple. Whether you're shopping for 420 gifts for your friends, family, or co-workers, these are our favorite hi-tech cannabis gift ideas for this year's holidays.
Need more gift ideas? Check out our other gift guides:

Price: $21.95
If you know someone who needs to be discreet about their cannabis consumption, the Smoke Buddy personal air filter is an ideal gift. The handheld filtration system turns any amount of exhaled smoke into clean, odorless, and toxin-free air. The Smoke Buddy can be used inside or outside to help hide marijuana's dank smell and put to rest any worries about second-hand smoke or nasty airborne particles leftover from an exhale. It's simply one of those things that every stoner needs. Each Smoke Buddy comes with a keychain and LED light and is good for more than 300 uses.

Price: $17.99
Tired of your Bics running out of fluid or fumbling with refillable butane lighters? If you're a joint or blunt smoker, the USB charging tesla coil lighter from Electric Arc Lighter will keep you lit no matter the situation. One of those classic gifts for men (or anyone), the coil lighter is rechargeable and will never run out of juice, and because it creates a super-hot electric arc instead of a flame, you can use it outside in high wind areas and get blazed in any weather.

Price: $19.99
Vape cartridges revolutionized the game when it comes to discreet public consumption, and the Phlip from Philter Labs is here to take your undercover toking to the next level. Compatible with any 510 thread battery vape and an assortment of other industry-leading batteries, the personal filtration device allows you to inhale your vape from one side and exhale it through another, turning your clouds of vapor into invisible streams of fresh air.

Price: $59.00
Genetic tests have been a hot holiday gift for the past few years, but what if we told you a mouth swab could help you learn more about how your body reacts to weed instead of what country your great-great-great-grandparents lived in? With the Lobo THC Genetics Test, a simple swab can tell you, your friends, or family about their THC tolerance, the risk for mental health complications, and even memory changes tied to cannabis use. If you've got a relative who says that edibles never work on them or that "new weed is too strong," the Lobo test could put their wonders to rest.

Price: $149.99
Looking for the perfect grind on your cannabis? Look no further than the Otto smart grinder from Banana Bros. The slick automatic mulcher uses built-in sensors to change the speed and pressure of its grind based on the density, moisture content, and stickiness of your flower to dispense perfectly fluffy bud every time. What if the marijuana fan in your life doesn't know how to roll joints? No worries, every Otto comes with a magnetically attached cone filler that will automate the joint-packing process that will turn every bag of weed into a pack of personalized pre-rolls.

Price: $249.00
From edibles and cannabis cocktails to cannabinoid-rich ointments and lotions, marijuana infusions are more popular than ever. The Levo II extractor makes it easy to create your own medicated concoctions from start to finish. A tabletop unit that comes in five bright colors, the Levo II is the Kitchen Aid of the cannabis industry, with the ability to decarboxylate, infuse, and dispense cannabis-packed coconut oil, olive oil, or more. Whoever you're shopping for, the Levo II is an excellent addition to any kitchen counter.

Price: $260.00
Whether you're looking to make cannabis-infused brownies, cookies, cake, or a THC-packed pot roast, the first step is decarboxylating your weed. Done the traditional way, that means sticking your cannabis in a low-temp oven and hoping for the best. The NOVA from Ardent solves that problem with a simple, countertop device that perfectly heats your bud to activate the THC for edibles. Using electronic heating and innovative sensors, the NOVA knows exactly when your bud is ready to infuse, turning any home chef into an edibles expert - without stinking up the whole house.

Price: $299.00
Thanks to advancements in cannabis legalization and science, marijuana users are more conscious and focused on dosing than ever before. With the GoFire vaporizer and smartphone application, you can know exactly how much cannabis you are inhaling and what it contains. The oil and flower-compatible device releases measured 2.5mg doses every time and the app allows users to see exactly what kind of terpenes and cannabinoids are in each hit. The GoFire can be paired with a top-shelf flower or oil for unbeatable Christmas gift ideas for any weed enthusiast in your circle.

Price: $699.00
If there's someone on your holiday list who loves cannabis but has been too scared of big torches to start dabbing, the HYER Big-E Rig is one of those stoner gifts they'll never expect and never put down. The electronic heating element attaches to nearly any dab rig to give you a perfectly heated dab with no butane and no flame.

Price: $699.00
The Storz & Bickel Volcano took the cannabis community by storm when it first released in 2000. 20 years later, the industry-leading vaporizer is still the cream of the crop. The latest update to the table-top vape allows users to pick between classic balloons and a mouthpiece tube for hybrid inhalation methods. The heavy-duty hardware is one of those great gifts for dad, mom or any heavy smoker stuck inside at home for the holidays.
Do you have a favorite hi-tech cannabis accessory we should consider for our holiday wishlists? Let us know in the comments below!