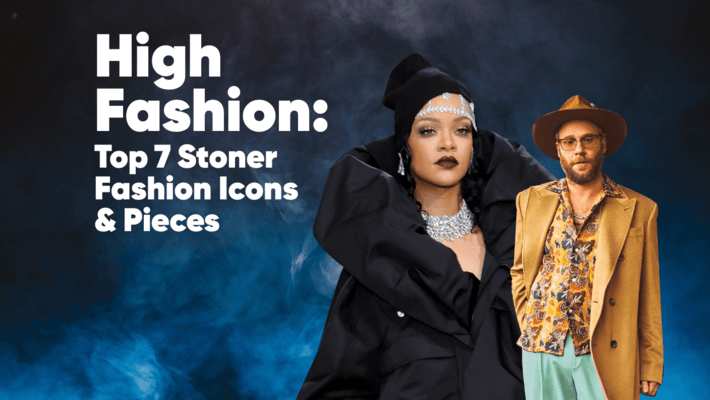 High Fashion: Top 7 Most Iconic Stoner Fashion Icons and Pieces
When fashion is traditionally discussed, it is examined through the lens of the different decades. Whether it was the flapper dresses of the 20s, the boiler suits of the 40s (think Rosie the Riveter), the 70s that brought platforms and bell bottoms or the 80s that we all just want to forget about entirely. Fashion has changed as drastically as the culture has. However, has anyone stopped to examine a whole other genre of fashion that is always been overlooked? Perhaps born out of the 70s hippie-chic look comes stoner fashion, which may have even finally made its way into the mainstream.
The History of Stoner Fashion
The stoner look was born out of the 70s counterculture movement, which probably comes as a surprise to no one. The movement was all about nonconformity and challenging society's norms and they chose clothing that reflected their feelings and unpopular opinions. The fashion was characterized by bold, bright colors with psychedelic patterns and comfortable clothing to ease the mind.
Any of this seem familiar, as we jump forward a few decades? If you asked anyone on the street what a "stoner" would wear, they are going to tell you something tie-dye, something made of hemp and some article of clothing that is probably going to be oversized. While this may be true especially of the Y2K era (which is now circling back around to be on-trend), the last decade was filled with an elevated sense of stoner fashion, that came in the form of streetwear.
When you think of stoner streetwear, HUF should come to mind. For most of the 2000s, this was the brand you were decked out in if you wanted to show the world you toked up. Since then, other streetwear brands have followed suit, as this clothing proved to have swagger and clout for the younger generations. Think vibrant hues and trippy, nonsensical graphics and the more obscure the brand, the better.
Fast forward to 2020 and beyond as high fashion is finally getting on board (America, you're next). Some of the biggest brands such as Marc Jacobs and Moschino's Jeremy Scott are seeing green and bringing cannabis designs into the limelight, whether that be in meticulously designed pot leaf jewelry pieces or implementing marijuana motifs into the pieces.
Stoner Fashion Icons
Where would any movement be without their icons? Below are some of those that we consider being bold and brave, catapulting the movement into where it is today.
Rihanna

Here's a queen that has done it all. Not only is she a self-made billionaire, a Grammy-award winning singer and businesswoman, but she's a proud stoner. Some of the most iconic photos of RiRi are her with a joint in hand, looking at chic as ever. She rolls her exotic looks, cutting-edge style and cannabis use all into one glamourous look seamlessly. She hasn't been shy about her use at all over the years, only bringing it further into the mainstream today. Remember, a joint can always be an accessory.

Seth Rogen

Okay, hear us out on this one. When you think of Rogen, you probably don't think about his fashion sense. But this filmmaker, writer and cannabis biz owner has a quintessential stoner boy style, you just haven't realized it. He's the stoner guy of 2021 and has the glasses, cool beard and simple, quirky style to back it up. Did we mention he has one of the coolest cannabis brands out there?
Johnny Depp

This actor has countless iconic roles, but which one is iconic in stoner fashion? Think about his role as Raoul Duke in Fear & Loathing in Las Vegas. It's the crazy shirts, bucket hats, and clear aviator sunglasses for us. Any of these items sound familiar? We know that they are probably all in your closet today, being worn on repeat. Let's not forget about the cigarette (or joint!), either.
Iconic Stoner Fashion Pieces
For better or worse, keep reading for the most iconic looks that stoners have popularized over the years.
The Drug Rug

Traditionally this piece is considered a "Baja jacket" that has roots in Mexican culture and maybe the most recognizable piece of stoner-wear out there. Commonly made from a coarse woolen fabric with horizontal stripes, this hoodie is the go-to comfort look for your favorite stoner. Is it the comfort level that makes it so popular? We think it might be that you can practically disappear in one of these, even on your most baked afternoons. Just throw the hood up.
HUF Weed Socks

Sometimes, it's all about being subtle in what you wear right? If you are/were a stoner in the 2000s and these weren't in the sock rotation, what were you doing? These pot leaf socks were just as much of a marker of a stoner as the joint. Did we mention the fun color combinations and ultimate comfort you'd feel after a long day in your Vans?
Tie-Dye Genie Pants

This one is skewed more towards our lady stoners or for really anyone who wears those hippie, almost genie-like yoga pants. While you may be desperately trying to remember what Aladdin's pants looked like, just trust us on this one. This is a trademark of a stoner for, you guessed it, comfort. You can lounge in these, work out in these and dance all night to some groovy tunes in them as well.
Hemp Jewelry

We could go on and on about hemp and how this alternative could save the world. While there are so many uses for hemp, one use that is particularly popular with stoners is hemp jewelry. This can be a simple hippie necklace with some beads, to an intricate pendant holding your favorite healing crystals. Either way, any true stoner won't be seen without wearing one.
How do you feel about stoner fashion? Do you find it kitschy or elevated? What's coming next? Predict the future in the comments below.