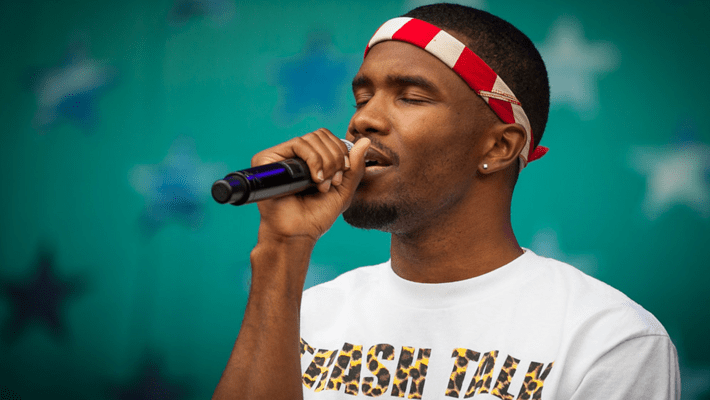 Top Frank Ocean Songs to Get High to
Where should we even begin with the recording artist that is Frank Ocean? This 33-year-old is a singer, songwriter, rapper, record producer and is even now a fashion designer. He is a bit of an enigma for the amount of success he has, but one thing is for certain, whenever he releases something, you know it is going to be fantastic. Getting his start with the Tyler the Creator founded hip hop collective, Odd Future, he has only gone up and up from there.
He mixes everything into his music whether it be jazz, funk, alternative R&B, pop-soul, psychedelia and so much more. There are only two Frank Ocean albums, one from 2012 (Channel Orange) and 2016's Blonde. For many, however, both of those albums are still on repeat today, only showcasing the lasting impact Ocean's music has made on society and culture. As a queer artist, he continues to push the envelope while representing those who haven't had a voice for centuries. Unfortunately, if you've been waiting for the Frank Ocean new album, you'll be waiting a bit longer.
Top Frank Ocean Songs To Smoke Weed To
Pink Matter + Cannatonic

This introspective ballad from Frank himself and Outkast's Andre 3000 may not be the top song on Channel Orange, but definitely is one that should never be overlooked. Pink Matter breaks down the female form, a woman's mind and his deep respect for women in general while exploring his sexual identity. He thinks of his past and present self in the face of women, seeing how powerful and sexually free they are. A high CBD hybrid strain, such as Cannatonic, will help you from getting far too introspective with this song. With 10% CBD and a fruity, sweet flavor, this cross between MK Ultra and G13 Haze will keep you uplifted yet will calm the mood and mind all at the same time.
Ivy + Sour Diesel

For Frank Ocean, Blonde has a theme of nostalgia running throughout, and this song is a clear example of that. In Ivy, he starts with "I thought that I was dreaming when you said you loved me" and later says "It's alright to hate me now". He is reflecting on a failed past lover and relationship yet is nostalgic and longing for those feelings he once had. Although this is a sad one, we want to stay upbeat and hopeful for the future, and what strain type is better than a sativa? Reach for Sour Diesel, which comes in at 20-25% THC and is a cross between Chemdawg and Super Skunk. This gas-aromatic sativa is great for alleviating all the anxieties that this song can bring about with its fast-acting effects.
In My Room + Wedding Crasher

After Blonde's debut in 2016, we haven't gotten much from Ocean except for a few singles here and there, like this one from 2019. He raps over a simple beat and trades his soulful lyrics for a more pop-inspired sound with a stream-of-consciousness lyricism. He explores sex, wealth, fame and isn't going for a clear-cut narrative with this song. He claims that he is done with vulnerability as he signs over and over, "Quit being violent with me." This song has many conflicting thoughts and feelings, so grabbing a hybrid with dual capabilities will be best here. Wedding Crasher, coming in at 21% THC with the genetics of Wedding Cake and Purple Punch, delivers delicious vanilla and grape flavors perfect for morning or night. Expect an energizing high that will also deliver mental clarity.
Lost + Cactus Breath

Another hit off his debut album, this may be the most straightforward "pop" song that Ocean has given to us. This song follows the narrative of the protagonist, who is likely a drug dealer, and his girlfriend that has also gotten "lost" in the game and is working with him. She's caught up in the lifestyle and the danger that comes along with the illicit drug trade. Dive into the story of this song with an indica like Cactus Breath that will keep you sedated throughout his melodies. With 26% THC and crossed with Mendo Breath and Cactus, expect funky flavors with lemongrass from this strong indica.
Pink + White + Grandaddy Purple

Here's another massive hit from Blonde, but did you know that Pharrell Williams produced this track, and Beyonce herself has backing vocals on this one? Pink + White is Ocean at his best, ruminating yet again over a past relationship. This track details his memory with a past lover who showed him the best things in life and what he has learned from them, and where they stand now. It's a bit hazy, with cocaine and drug references throughout. Sink back into the couch with his melodic reminiscing and roll up a joint with Granddaddy Purple. This delicious indica with 17% THC is crossed between Purple Urkle and Big Bud with notes of berries and fruit throughout. Find your bliss while on the couch with this one.
Swim Good + Grapefruit Durban

We're throwing it back with this one. As one of the hits off his debut mixtape Nostalgia, Ultra from 2011, this one without a doubt put Ocean on the map forever. It's a tricky song because Frank successfully hides the deep, dark subject matter with a nice beat and his now famous and incredible vocals. Swim Good explores the emotional baggage of a relationship and investigates tragic love and suicide. This song is a heavy one underneath it all, so stay happy with a sativa like Grapefruit Durban with 25% THC. You'll feel energized and euphoric with the bursts of flavors such as citrus, sour and sweet. As a cross between Grapefruit and Durban Poison, you'll tackle anything you need to do for the day.
What songs do you keep on repeat while waiting for the next Frank Ocean album? Did we miss any of your favorites? Tell us below!