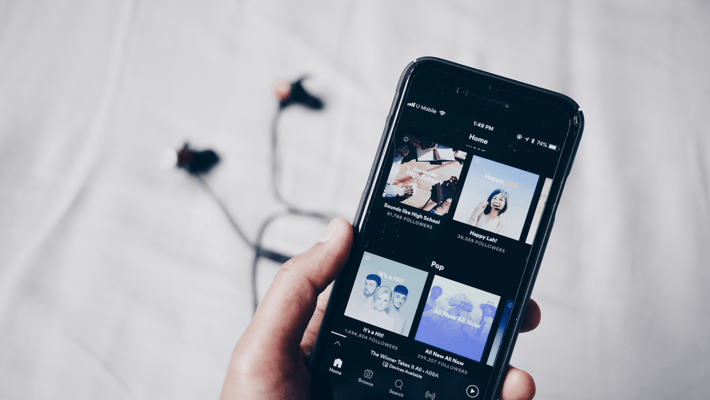 Top 5 Spotify Playlists to Listen to High
Some combinations just make perfect sense. It may be salt and pepper, peanut butter and jelly or Batman and Robin, and we just cannot picture one without the other. Another combination that coalesces together into harmony is none other than cannabis and music. A good song can get your mind right, set the tone for a great night ahead or transport you back to a fond memory with friends. Whatever the reason may be, next time you're putting on your favorite playlist, light up with some of your favorite cannabis strains to level up the whole listening experience.
How Cannabis Enhances Music

Music and cannabis have been going hand-in-hand for decades if you've been listening close enough. Those who were at the forefront of the beginnings of the jazz, reggae and rock genres will all cite cannabis as a substance that took their music and those who listened to it on an entirely new journey. So, what is it about your best cannabis strains that makes music sound better?
There are many things that THC affects within the body. It can relieve pain, nausea, and act as a sleep aid. When thinking within the framework of music, THC releases dopamine, which triggers feelings of euphoria and overall happiness and can explain that special experience when listening to songs while high.
Marijuana also alters your perception and can heighten sensory experiences. A study from 2002 even found that cannabis actually helped listeners process what they were hearing better, amplifying acoustics and rhythm. THC works within the body through a system called the endocannabinoid system, binding to the CB1 receptor to influence the receptors that affect mood and sensation. So, the next time you find yourself listening to a brand-new album or playlist, light up with one of the popular strains on the market for a different kind of musical experience.
The Best Spotify Playlists + The Best Weed Strains & Edibles
This is the go-to playlist if find yourself to be rather indecisive when it comes to putting on tunes. This one by Spotify is a genre-less one and focuses on quality rather than staying boxed into a specific sound. You don't have to choose between indica vs. sativa, so why choose between the genres of alt-rock and hip-hop when you can just have it all? In this playlist, you'll find the likes of Kanye West and Vince Staples to Still Woozy and Leon Bridges. If you're looking for a more popular, "Top 40" playlist - this one isn't it. For this playlist, we opt for a hybrid weed strain like Chocolate Mint OG with 21% THC. This minty, spicy and chocolate-tasting bud is among the best hybrid strains to hit you with heavy cerebral effects, perfect for slowly sinking into the couch to the ever-changing playlist.
This one shouldn't come as a surprise to many, as psychedelics and music produce the same sensations as cannabis does with your favorite sounds. The benchmark of psychedelic music is that it's all about perception-altering sounds. So, why not enhance these mind-bending elements with your favorite herb, cannabis? Everyone at this point knows that Tame Impala will make an appearance, but explore the likes of Crumb, Mac Demarco, and Das Kope for the same vibes. When it comes to different strains of weed, let's opt for the CBD variety. Lifter, containing 20% CBD, will increase creativity and your daytime focus. With earthy citrus notes, you'll find clarity and relaxation with these groovy songs.
If you're a house music and techno lover, but sometimes need a break from that constant BPM and bassline -- look no further. This Spotify playlist is for the softer times and delivers laidback house tunes that are great for cleaning and studying. All your favorite electronic and electronic-adjacent artists make an appearance, whether it be Lane 8, Rufus Du Sol, Cannons and Flight Facilities. Roll up a joint with Purple Punch, an indica that is high on the list of strains that is excellent for sleep. With 19% THC, this grape-tasting strain will settle right between the eyes as you drift off into the dreamy house music.
This one is for all the indie kids out there. They are the ones always on-trend, showing you the latest bop that you have never even heard of. Soiree has old and new hits alike, whether it be classic Kendrick Lamar or the brand-new-on-the-scene 070 Shake. You'll find slowed-down jams or upbeat indie-EDM tunes that are perfect for a smoking session and hanging out with friends on the beach. If you're thinking about sativa vs. indica to match the vibe, either is going to work with this collection of hits. However, let's switch things up with a delicious edible, instead. We love the 1906 Genius Drops that deliver just the right amount of high. With only 2.5mg of THC, 2.5mg of CBD and a hint of caffeine, you're in for a clear-headed, mentally focused day with jams playing in the background.
There are few things better than hitting the bong right before getting a well-deserved good night's sleep. To set the scene for a blissful and relaxed night, you need the right playlist to get you there. These hypnotic, melodic tunes are sure to have you falling asleep in no time. For these ambient songs, you'll want a heavy dose of cannabis to knock you out for the next 6 to 8 hours. If you're a veteran smoker, consider trying an infused joint like a Cavi cone. This trifecta of weed, concentrate and kief is perfect for blasting you into a stoner bliss. Trust us, you won't be able to do much else besides slip away into sleep.
What are your go-to Spotify playlists? Have you heard ours above? Sound off in the comments below.