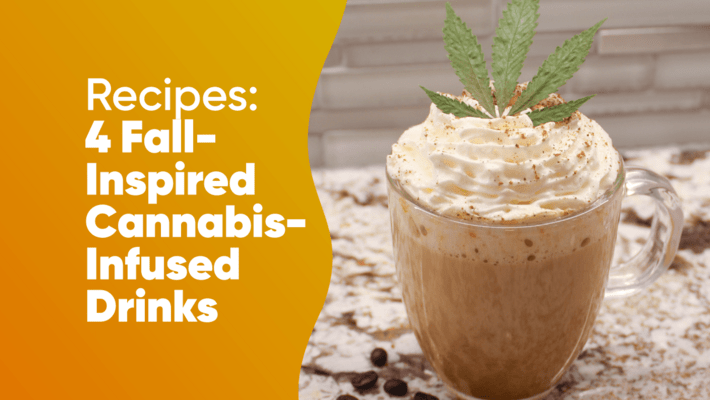 4 Fall Inspired Cannabis-Infused Drink Recipes
Cannabis-infused treats are quickly taking over, with new goodies constantly becoming available to us. The rise of cannabis-infused drinks is one of the more exciting developments to come from the edibles category, giving us something delicious to sip while enjoying the effects of THC.
Let's explore why these beverages are so great for chilly fall days and how you can make your own!
What is a Canna Beverage?
Cannabis-infused drinks, commonly referred to as "canna beverages" or "THC beverages," are a type of drink containing THC.
These drinks come in various types and flavors, available as pre-made products at your local dispensary. You can sip your way into a high, which can be great for social gatherings and enjoying yourself with others.
Canna beverages can be made in different ways. Some brands make them with distillate, while others create their very own cannabis syrup. There are even brands that make products that can turn any beverage into a canna beverage, putting the power in your hands with drops or powders.
How to Make Your Own Cannabis-Infused Drinks
While cannabis-infused beverages at the store are great, did you know you can make your own?
Whipping up your own canna beverage lets you turn your favorite drinks at home into an even better version with THC!
Here are four fall-inspired cannabis drinks to try at home.
A pumpkin spice latte is one of the most popular drinks for fall, and you can put your own spin on it with cannabis. Adding cannamilk (cannabis-infused milk) to your traditional latte is a fantastic treat with a brand-new twist.
Servings: 1

Ingredients
Cannamilk (1 cup)
Sugar (1 tablespoon)
Pumpkin puree (2 tablespoons)
Espresso or preferred coffee (1/4 cup)
Vanilla extract (1/4 teaspoon)
Pumpkin pie spice (1/4 teaspoon)
Whipped cream (optional)
Nutmeg (optional)
How to Make This Recipe
In a microwave-safe bowl, combine pumpkin puree, sugar, vanilla extract, cannamilk, and pumpkin pie spice.
Cover the bowl while maintaining a small hole for venting. Then place the bowl in the microwave on high for 1 minute.
Whisk the mixture until it's frothy.
Pour your espresso or coffee into your preferred container with the cannamilk added to it.
Consider topping it off with whipped cream and a sprinkling of nutmeg.
Serve your cannabis-infused pumpkin latte!
Apple cider is another popular fall drink that can be even better with cannabis. If you grew up loving cider, chances are you'll enjoy this cannabis version too. This easy-to-make drink is a hit with guests!
Servings: 4
Ingredients
Apple cider (4 cups)
Cinnamon sticks (4)
Apple (1)
Brown sugar (1/8 cup)
Cloves (1/4 teaspoon)
Cannabis tincture (3 tablespoons)

How to Make This Recipe
In a slow cooker, add the apple cider.
Place the apple slices, cinnamon sticks, and cloves in the slow cooker with your apple cider. Keep things evenly dispersed.
Add the remaining spices to a cheesecloth bag.
Use an elastic to hold everything together to ensure the spices all stay where they need to be. Then add the bag to the concoction.
Turn the slow cooker to medium heat until the beverage begins to boil.
In a bowl, combine the tincture with brown sugar at your desired dose.
Pour the brown sugar and tincture into the cider. Then cook for 1 to 2 hours.
Remove the bag and squeeze out any cider that might have been absorbed.
Turn the slow cooker to warm or its lowest setting.
Serve your cannabis-infused cider!
A spiced chai latte is a delicious drink year-round, but it just hits different in the fall. If you're a fan of chai and want to elevate your experience, you'll love this cannabis recipe.
Servings: 3 (8 ounces per serving)

Ingredients
Decarbed cannabis flower or kief (1 teaspoon)
Milk (27 ounces)
Black peppercorns (8)
Cardamom pods (15)
Cinnamon stick (4 inches)
Allspice berries (2)
Anise (1 star)
Loose-leaf black tea (2 tablespoons)
Whole cloves (6)
Brown sugar (3 teaspoons)
Vanilla extract (1/8 teaspoon)
Ginger (1-inch piece thinly sliced)
How to Make This Recipe
Preheat a water bath until it reaches 185 degrees Fahrenheit.
Using a cast iron pan set at medium heat, heat the cardamom pods for a few minutes. Move them regularly.
In the same pan, add the black peppercorns and continue to cook for another few minutes. Keep everything moving.
Add the cloves, anise pod, allspice berries, and cinnamon sticks to the pan. Allow them to cook for a few minutes.
In a mason jar, combine the milk, brown sugar, vanilla, ginger, tea, and your cannabis source.
Remove the cinnamon stick and break it into smaller pieces.
Open the cardamom pods.
Combine the cannabis mixture and the toasted spices, stirring to distribute the flavor.
Place a lid on the mason jar, and lightly tighten it.
Place the sealed mason jar into the water bath and allow it to cook for 2 hours.
Remove the mason jar and open the lid.
Give the contents a stir to shake up the flavor.
Using a filter, strain the liquid into a new jar or your mugs.
For added flavor, top with cinnamon.
Serve your cannabis-infused chai latte!
Hot chocolate is no doubt a seasonal favorite. As you might expect, it only gets better by infusing it with cannabis. Turn this childhood favorite into an adult treat with this fun and simple recipe.
Servings: 1
Ingredients
Decarbed cannabis flower (1/4 teaspoon)
Milk (1 cup)
Cocoa powder (1 tablespoon)
Sugar (1 tablespoon)
Ground cinnamon (1/8 teaspoon)

How to Make This Recipe
Create your own cannabis powder.
In a bowl, combine sugar, ground cinnamon, cocoa powder, and your cannabis powder into a bowl.
Using a whisk, mix the ingredients until there's an even distribution.
For storage, consider using a jar or sealed container.
Once your cannabis mixture is made, you can begin to make the hot cocoa.
In a pan on low heat, combine the milk and your hot cocoa mix.
Be sure to whisk and stir the drink as it warms continuously.
Remove the drink before it begins to boil.
Serve your cannabis-infused hot chocolate!