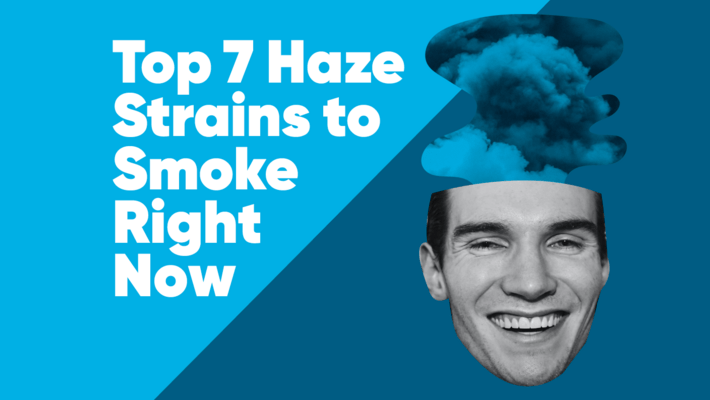 Top 7 Haze Strains to Smoke Right Now
There are a few cornerstones when it comes to the culture and industry of cannabis. Whether it be the rambunctious holiday of 4/20, the infamous side effect of the munchies, or the legendary cannabis strains that have gained a cult following, there is so much more to the business than meets the eye. One of these strains is akin to a family line, attracting something of a cult status, and that is the haze strain of cannabis.
What is Haze Weed?
There are classic cannabis family lineages that you may know or have likely smoked, such as the Skunk and Kush families. The Haze family is another precursor to so many strains that your local budtender is picking out for you every other week. Consider the Haze lineage the backbone of cannabis or a bona fid cannabis celeb.
The name haze in cannabis may be a bit misleading, with users imagining a mind and body numbing high. In contrast, haze cannabis strains are among the most potent sativas on the market today. With THC percentages averaging upwards of 22% (and no CBD present!), this type of sativa isn't for the faint of heart. Users will find that a haze sativa strain is energetic, long-lasting, uplifting, motivating and euphoric - all without the slumping, couch-lock effect.
Not only is the haze family known for the psychedelic-like effects, but the strain has a distinct aroma as well. When rolling up and lighting your haze-filled joint, you can expect a pungent aroma that has a spicy scent. You'll find a fruity, sweet, and a bit woodsy and earthy flavor profile on the back end. One can expect haze strains to have high terpene profiles in both terpinolene and myrcene.
Haze Origins
Like so many great cannabis origin stories, this family line also hails from the west coast. Dating back to the 1960s and 1970s, two growers in Santa Cruz, California, called the "Haze Brothers," created this legendary, potent sativa. Like many celebrated strains, the origins of haze are shaky at best. Many believe that the brothers crossed a Thai landrace strain with Acapulco Gold, but that is just one of a few myths.
Haze Cannabis Strains
Super Silver Haze

Here's a classic sativa with 20% THC that was even a Cannabis Cup 1st place winner three years running. You'll receive all the lovely sativa feelings, so expect to feel an energetic, long-lasting and wonderful body high. Super Silver Haze has impressive genetics that boasts Northern Lights, Haze and Skunk. High in myrcene with a citrusy aroma, this strain is sure to erase any lingering anxieties that may be at present.
Jack Herer

This sativa strain, named after the marijuana activist, has 20% THC and has a terpinolene dominant terpene profile. This award winner is sure to energize and is known for the cerebral elevation while delivering a clear-headedness and blissful day ahead. Combining a Haze hybrid, Northern Lights #5 and Shiva Skunk, pack your next bong with this pine-scented winner.
Blue Dream

This hybrid doesn't need much introduction. However, you should get familiar if you aren't aware of this cross between Blueberry and Haze. Coming in at 18% THC with terpenes high in myrcene, you'll get the best of both worlds from this one. Expect a full-body relaxation that is paired with a cerebral head rush. With a small amount of CBD, this fruity strain is approachable for all cannabis consumers alike.
Strawberry Cough

This sativa with 19% THC is known for none other than its fresh strawberry smell. This potent strain has mysterious origins yet is thought to be a cross between Haze and Strawberry Fields. It will keep you euphoric all day long and is sure to keep the creative juices flowing. High in myrcene, this skunky and sweet strain is perfect for even the most stressful days.
Super Lemon Haze

Next up on the haze strain review is this sativa-leaning hybrid that comes in at 19% THC and is a two-time Cannabis Cup winner. Expect a sweet lemony tart taste and an uplifted mood and attitude to go along with it. Best for daytime use, this high terpinolene strain is excellent for any social situation and is a cross between Lemon Skunk and Haze.
Amnesia Haze

This hybrid employs an almost psychedelic high that will send your brain into outer space. With earthy yet citrusy flavors popularized in Amsterdam coffee shops, grab this strain for an instant mood booster. With 20% THC and a caryophyllene-rich terpene profile, this Cannabis Cup winner has haze mixed with South Asian and Jamaican landrace strains.
Purple Haze

If you're a classic rock fan, you know where this strain received its name. Just like the cult Jimi Hendrix tune, this ethereal and dreamy strain is sure to touch on the psychedelic. With 17% THC and a high myrcene terpene profile, this sweet, spicy and earthy strain is sure to blast off your mood into the blissful. With the genetics of Purple Thai and Haze, lighting up with this strain is simply a no-brainer.
Do you have a favorite haze strain? What's the best family lineage in cannabis? Tell us in the comments below.