Home to the University of Oregon, Eugene is a picturesque city nestled between the Willamette and McKenzie Rivers surrounded by stunning Oregon forest. The Willamette National Forest is to the east, the Siuslaw National Forest and the Pacific coast are just an hour to the west, and Portland is only a few hours north. While it's closely located to so many amazing places, Eugene has tons to offer on its own. The iconic downtown is lined with brick buildings, busy sidewalks, and lots of local shops. The micro-brewery scene is huge and there are tons of spots to grab a drink and sit outside to enjoy Eugene's charming aesthetic. It is a city for thrill-seekers and chill vibes alike.
Eugene also happens to have a killer cannabis scene with a large handful of dispensaries. Oregon legalized marijuana in 2014 and Eugene has enjoyed a thriving cannabis culture ever since. The state is known for high-quality standards and for putting public health on the top of their agenda – Oregon is a great state for marijuana. The city allows for the delivery of marijuana (several dispensaries deliver within Eugene and to other nearby cities). Most dispensaries, both medical and recreational, are open between the hours of 8 AM and 10 PM, where you can purchase a wide variety of marijuana products. Please note that the use of marijuana in public is prohibited and it is illegal to drive while under the influence of any amount of marijuana.
Eugene Resources:
https://www.eugenecascadescoast.org/regions-cities/eugene/things-to-do/
https://traveloregon.com/things-to-do/
https://whatslegaloregon.com/#
https://www.oregon.gov/olcc/marijuana/Documents/Licensing_Forms/mj_ref_delivery_guide.pdf
Read More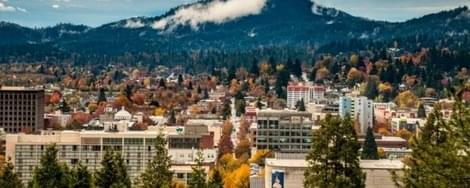 Visiting Eugene?