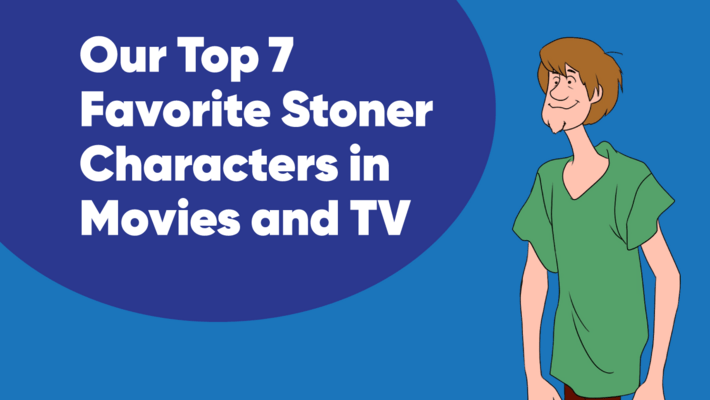 Our Top 7 Favorite Stoner Characters in Movies and TV
Everything is better when you're a little baked and even the most mundane activity can seem like an adventure with your favorite herb - marijuana. You can go on an all-day hike, sit back and relax to your favorite record or binge the latest Netflix obsession all day long. While partaking in the smoker's pastime of chilling on the couch with a movie, throw on something with your favorite stoner characters to heighten the mood.
Top Tips for a Binge Session
You've realized that you're free for the whole day and are due for a much-needed rest and relaxation day on the couch. Consider these tips below to ensure that the day goes smoothly and uninterrupted.

Set Yourself Up for Success: Make sure that there are no interruptions for your day (or night) ahead and tie up any loose ends that you need to, such as phone calls, appointments and errands that need to be finished. You don't want to be thinking about the other things you need to be doing while trying to chill out.
Comfort is Key: If you're going to spend the entire day on the couch, you better make sure that this step is taken care of. Throw on the comfiest sweatpants, find the fuzziest blanket you own, and have every necessity within arm's length, so you won't need to leave all day long.
Have Munchies Ready: If you know that you're planning on an all-day smoking session, consider making some tasty treats or edibles to go along with it to keep the high going. If you're not a cannabis chef, make sure to have the fridge or pantry stocked with your favorite high snacks.
Stock Up: For a marathon of a smoking session, make sure you have copious amounts of your favorite strains, rolling papers and a clean bong to keep you going all day long.
Top Stoner Characters
Saul Silver (James Franco)

Perhaps one of the most popular stoner movies of the last decade is Pineapple Express, a masterpiece between James Franco and Seth Rogen. Saul is a drug dealer who sells cannabis to Dale Denton (Rogen), and together they embark on a crazy adventure running from hitmen and police after witnessing a murder. For a cannabis pairing, you already know that we're going to suggest the sativa-dominant hybrid, Pineapple Express. Expect a creative and energetic mood-boosting afternoon ahead.
Blake Henderson (Blake Anderson)

This fictional character on Comedy Central's Workaholics is a celebrity pothead in real life, too. Blake Henderson is the ringleader of his friend group with a giant head of hair that no one can miss. If they're not working at the telemarketing company during the day, they are getting into all sorts of trouble at night. You need energy to keep up with the escapades these guys get into, so roll up with a sativa like Durban Poison to keep you focused on the ever-shifting, hilarious storyline.
Patrick Star

This starfish needs no introduction. If you're a millennial, you grew up watching SpongeBob SquarePants as a kid and are just now realizing how adult the show actually is. Sure, we may not see Patrick lighting up on the show, but he lives (literally) under a rock, is generally always confused, and always has an appetite. In honor of one of our favorite stoned cartoon characters, we suggest packing the bong with an indica like Black Magic Kush. Everyone deserves to be as chilled as Patrick Star, and this strain will deliver it all with a pleasant aroma and flavor.
Ilana Wexler (Ilana Glazer)

Name better female stoner characters than Ilana and Abby on Broad City. Hard, right? This stoner show is all about 20-something best friends who attempt to navigate life in NYC. Their crazy adventures will leave you in tears as you watch them trip on mushrooms and consume copious amounts of cannabis. Here's another show that always leads to something unexpected, so staying alert with a sativa like Blue Walker is a must for a long day on the couch.
Jesse Pinkman (Aaron Paul)

Next on the list of iconic stoner TV characters is Walter White's righthand man in the smash-hit, Breaking Bad. Jesse was both a stoner and a user of other things and eventually became a meth cooker in a high-level meth operation with White, who was just diagnosed with inoperable lung cancer. This show is all about the little details, so keep up with an edible like the WYLD peach gummies with a 2:1 CBD ratio to keep your mind right.
Shaggy

This Scooby-Doo character who was always unkempt, eating all the scooby snacks, and always seeing a ghost or ghoul is another one of those grown-up realizations we've had where this character was a total stoner. Of course, we never see him partaking in cannabis as the Mystery Gang is searching for weird phenomena to solve, but it is joked about in the 2002 live action movie. For a classic stoner character, grab a new classic in the edibles game. The 1906 edibles brand is some of the best in the game, delivering you a precise, potent dose every time.
Ted

A man's childhood wish of bringing his bear to life comes true, and 27 years later, John (Mark Wahlberg) is 35 and still living with his bear, Ted. The movie follows the bear wreaking havoc on John's life and personal relationships. What's better than a walking and talking teddy bear? A bear that smokes weed - all day long. Relax on the couch with this hilarious, mind-numbing comedy with an indica like Grandaddy Purple that will launch you into a dreamy head buzz with a pain-free euphoria.
Do you have a favorite stoner character of all time? What do you think of our list above? Let us know your favorites below.