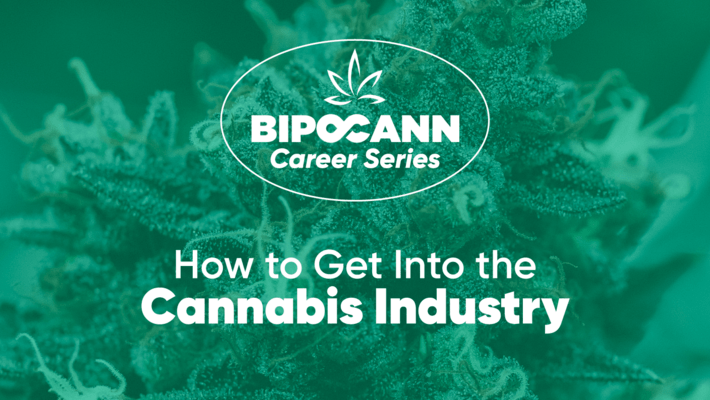 BIPOCANN Career Series: How to Get Into the Cannabis Industry
It's fair to say there are plenty of career opportunities in cannabis, given the industry's growth. According to a recent report, the cannabis industry supports over 428,000 jobs across the United States.
13 Career Paths in the Cannabis Industry

Even considering the current economic climate, over 107,000 new jobs were created in the cannabis industry, nearly unmatched by any industry. That's a 33% increase in jobs year over year! And in 2021, the cannabis industry was responsible for creating 280 new cannabis-related job opportunities daily.
When it comes to the cannabis industry, getting into it is the hardest part. Where's Weed has teamed up with BIPOCANN and its network of businesses working to shape a more accessible and profitable legal cannabis industry.
BIPOCANN connects BIPOC entrepreneurs and business owners to the legal cannabis industry. Since BIPOC populations are under-represented in this multibillion-dollar industry, BIPOCANN's mission is to increase visibility and advance representation. Joining their network gives you easy access to cannabis industry networking, education, and growth resources.
Careers in cannabis are expanding as fast as the industry itself. Here are 13 of the most popular career paths and the types of roles you'll find in each.
Advocacy

Passionate about cannabis and want to make a difference? Advocacy may be the career path for you. New laws and regulations are passing faster than we can keep up. As a cannabis advocate, you'll work to shape these laws and ensure they protect the rights of cannabis users and industry workers.
Careers in cannabis are expanding as fast as the industry itself. Explore some of the most popular career paths in cannabis advocacy.
Brands

While the team structure of every cannabis company is unique, most prominent brands and multi-state operators (MSOs) tend to have core departments in sales, marketing, operations, and finance.
In 2021, the global legal cannabis market was valued at $13.2 billion, and this valuation is anticipated to increase at a compound annual growth rate of 25.5% from 2022 to 2030. As the demand for legal cannabis grows, so does the demand for professionals who can help brands capitalize.
Explore common career paths at cannabis brands for each department and what the growth opportunities are when working with a cannabis brand!
Consulting

Consulting in the cannabis industry is unique. With complex laws and regulations that vary between states and no federal oversight, it's easy for both budding entrepreneurs and established brands alike to run into obstacles. This is where cannabis consultants come in and why their expertise is in such high demand in the job market!
The need for education, guidance and hands-on assistance has skyrocketed. This has increased cannabis consulting opportunities and allowed top consultants to charge more for their services.
Explore career paths in cannabis consulting, where the average pay is $68,390 annually.
Delivery Services

Delivery isn't just limited to food. The cannabis industry is making its mark too. Even big-name rideshare and delivery services like Uber have publicly commented on expanding to cannabis delivery services.
Not all consumers can easily make it to their nearest dispensary. And staying home is more popular than ever. Millions of Americans can have cannabis brought to their doorstep, and as more states legalize, delivery drivers from coast to coast are helping to get cannabis into your hands.
Even while cannabis is still federally illegal, delivery services are available in some states. And there are multiple career paths available within them. Explore career paths in cannabis delivery services, learn what they require, and see how you can get started.
Dispensaries

Working in cannabis is a dream job for many, becoming a reality as more states legalize it. Nineteen states are home to recreational marijuana dispensaries, so there's still room for growth. If this trajectory continues, there will only be more careers available in retail cannabis. New laws, trends, and social acceptance all play a role in moving the industry forward.
Dispensary jobs are here to stay. Explore career paths at a dispensary and discover the opportunities to accommodate a wide range of skill sets.
Growing

Did you know there are various types of cannabis growing jobs? For example, cannabis growers could work in an indoor facility, greenhouse, or outdoor farm. Jobs in legal cultivation will exist in states with medical or recreational adult-use cannabis.
As the demand for cannabis continues to climb every year, so does the need for skilled growers who can cultivate the plant commercially. Some growing jobs are more entry-level, while others are highly skilled. Explore career paths in cannabis growing, which provides an opportunity to continue moving up in the field.
Law

The U.S. cannabis market is expected to grow 21% annually, reaching $41.5 billion in sales by 2025. This has led to an influx in jobs throughout the industry, particularly in cannabis law.
As more states legalize medical cannabis for the first time or expand from medical to recreational, more companies will need help navigating the murky legal waters. Cannabis is outpacing nearly every other industry regarding job opportunities, and legal roles are no exception. You'll find demand for skilled legal staff that knows the ins and outs of cannabis licensing and regulations.
Explore career paths in cannabis law to see where law firms come into play.
Manufacturing

In 2021, $25 billion of legal cannabis was sold throughout the United States, and everything was produced and packaged by someone in a cannabis manufacturing role.
An entry-level job in cannabis manufacturing can help you transition to other roles and departments. Already working in manufacturing in another industry and looking to make a career move? Your skills and experiences can often be a fit for cannabis.
Manufacturing jobs in cannabis can vary depending on the products made. For example, manufacturing roles in a flower cultivation facility could be very different from those in a facility that produces edibles. You may want to look for a role with a company that makes the kinds of cannabis products you enjoy.
As more cannabis stores open, more manufacturing facilities are needed to meet the rising demand for cannabis products. Explore career paths in cannabis manufacturing and see why now is a great time to get into this field.
Marketing

Marketing plays a critical role in the success of any business, especially in cannabis. Whether you're a social media manager for a dispensary, an associate for a marketing agency, or a brand manager for a grower, the number of jobs is increasing.
A willingness to learn and be flexible is critical for success in cannabis marketing, as the rules and regulatory frameworks require an open mind. Day-to-day responsibilities require creativity, social awareness, writing, communications, and an analytical capacity for understanding engagement and returns on investment.
No matter your focus lies, it will all be easier the more you become familiar with career paths in cannabis marketing. Get involved, learn what's trending, and how you can apply your aspirations and skills.
Media

Now that 74% of Americans have access to some form of legal cannabis seeing the plant in media is becoming more commonplace.
Billboards for dispensaries. Brands with large followings on social media. Announcements about pardoning cannabis convictions. Cannabis media is now everywhere, including the job market.
Is your background in media, public relations, writing, or marketing? Have previous experience in highly regulated industries such as alcohol or gambling? Those skills can easily translate to cannabis media. Consider the skills you can offer or develop and find a way to apply them to various career paths in cannabis media.
Staffing

It's the responsibility of cannabis staffing professionals to find the best candidates for a cannabis company's open positions. Most develop a network of both employers and employees. By doing this, you'll be ahead of upcoming job vacancies, know when the peak employment times are and have a list of suitable candidates ready to contact.
As a cannabis staffing professional, you can work for an agency that already has established clients, or you can work for yourself as an independent staffing specialist. Your career development will depend on how successfully you match candidates with employers and the size of the network you build.
With more states on the brink of legalizing cannabis, there will be plenty of positions to fill. Explore career paths in cannabis staffing.
Testing Labs

Lab testing ensures that cannabis is safe, high quality, and accurately labeled for consumption. And as legalization expands, there's more demand for lab workers.
Before cannabis reaches the consumer, it must pass stringent laboratory testing per state regulation. A testing facility checks the cannabis for the potency of components such as cannabinoids and terpenes. It also checks for potentially harmful contaminants.
The global testing services market share was valued at $1.1 billion in 2019 and is expected to grow 15.4% annually from 2020 to 2027.
Are you detail-oriented? Are you interested in cannabis science and technology? Cannabis testing might be right for you. Job titles and career paths in a cannabis testing lab include lab technician, microbiologist, analytical chemist, lab manager, and chief scientific officer.
Tourism

The COVID pandemic had a detrimental impact on tourism, but traveling is picking up again. Weed lovers are now seeking out cannabis-friendly accommodations and destinations. Cannabis tourism will only increase as more states permit adult use and the stigma fades.
As cultural acceptance expands, cannabis tourism is on the rise. Would you believe that 29% of all active leisure travelers are interested in cannabis-related activities on vacation?
For those exploring career paths in cannabis tourism, it's an exciting time. You might find yourself as a tour guide, a chef, a bud and breakfast owner, a wedding planner, or a yoga teacher.