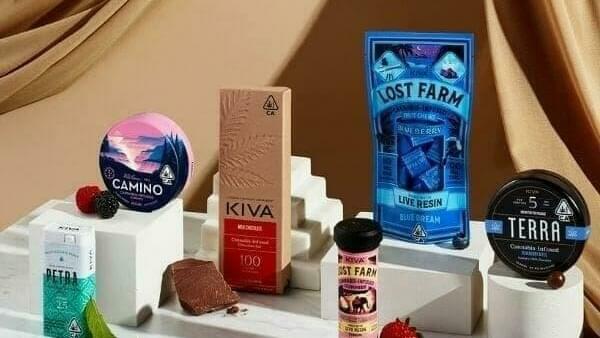 Our Top 7 Favorite Cannabis Packaging Designs
It has taken quite some time, but cannabis has finally made its way into the mainstream. With legalization efforts ramping up across the country, cannabis is everywhere you turn - you'll find it in your skincare, pet products, social tonics, and much more. As marijuana spreads to the masses, people are starting to expect a lot out of not only the product but also the cannabis packaging, too. We're now in a golden age for the industry with no signs of slowing, so let's take a closer look to see if marijuana packaging is keeping up.
The Growing Market
The weed business is booming. There are now 19 states and the District of Columbia that have legalized recreational cannabis - and the rest of the country is hopefully looking to follow suit. You'll see states like Ohio, Missouri, and Nebraska pushing initiatives to get cannabis legal, and for good reason.
According to the Marijuana Policy Project, roughly 68% of Americans support cannabis on a recreational level, and a whopping 90% support the use of the herb for medicinal purposes. To hit things even further home, the US is projected to create $25 billion in sales by 2025. Think of all the money that can be funneled back into the state, as we've seen happen in states with a decade of recreational weed - like Washington and Colorado.
Even though there are plenty of hurdles within the industry as it expands, we're in the prime time of cannabis. When dispensaries started looking more like Apple stores with the trademark minimalist and sleek design, people began to expect a higher caliber of cannabis. With that in mind and the fact that women are consuming more cannabis than men these days, high-quality cannabis packaging is at the forefront of most companies' minds.
420 Packaging Requirements
Since the US has not yet legalized cannabis on a federal level, it is up to the states to determine everything. While this may seem like a positive thing, there are quite a lot of drawbacks, too. Every state has its own laws around not only cannabis but also the packaging, and those regularly update and change with the times and new products. The states vary widely, with some being looser in practice than others, while California cannabis packaging, for example, is known to be some of the stricter in the US.
Most states share a common practice of keeping opaque packaging and ensuring that the containers are child-resistant. Also, virtually every state has a warning or statement about THC. Each state has a different practice when it comes to the different mediums of cannabis - flower, vaporizers, and concentrates. While some states have a universal symbol for THC, others emphasize no attractive packaging for minors and no imitation of food products on weed baggies. Here is a great resource that breaks down state-by-state specifics.
Notable Cannabis Packaging Design

A cannabis-loving couple embarked on a mission to create a better edible experience back in 2010 with quality and their cannabis packaging design. With top-notch, quality ingredients ensured in every bite, mixed with modern and sleek packaging, Kiva is a gold standard in the industry. Providing the likes of gummies, chocolates, and mints, you can find Kiva Confections across California and now Michigan.
This brand is all about the woman's power and how she can disrupt an entire industry. Founded by two women in 2015 with the goal of holistic and natural wellness, Kikoko's goal is to offer women an alternative to alcohol and pharmaceuticals. With eye-catching designs and trippy weed containers, this brand further pushes cannabis into the future. Shop herbal teas to tinctures all over California.

Few other companies take the word "organic" as seriously as Zoma does. With EnvirOganic certified cannabis grown in Santa Cruz County, you can rest easy knowing you're getting some of the best cannabis on the market - free from impurities. What's even better? Zoma boasts a sophisticated, minimalistic packaging with an embossed design for the ultimate cool factor. Find pre-rolls and eighths throughout California.
Not only does this company believe that you should put your best foot forward with the holistic use of cannabis, but Woah also believes that we are responsible for the preservation of our planet. With a streamlined, modern design that incorporates a beehive, it is no secret that these are honey-forward cannabis products. Find the honey caramels and dark chocolate caramels throughout California only.

Look no further if you're looking for a trippy, ultra-modern, contemporary take on cannabis packaging. Raven Grass is a firm believer that the grass is always greener on their side of things and is looking to educate and empower the cannabis community rather than exploit it for profit. Shop pre-rolls, flower, concentrates, and more throughout Washington.
It only makes sense that an iconic musician and weed lover has his own cannabis line, right? Cannabis has always been a way of life for Willie Nelson, and the brand is all about the sharing, caring, and toking of cannabis. With a color-popping Western design, Willie is sure to reel you into quality products of flower, vape cartridges, and more. Find this brand throughout California, Arizona, Nevada, Colorado, Oregon, and Washington.

This brand believes that cannabis is the greatest medicine on earth. With a goal to make cannabis a normal part of daily wellness, they created a highly functional edible to do just that. With a targeted dose and medicinal relief, the ultra-minimalistic yet colorful design draws consumers inside. Find edibles for any sort of relief across Colorado, Massachusetts, Arizona, Illinois, and Oklahoma.
Do you have a favorite brand that kills it on their packaging? Does design influence your cannabis purchases? Let us know your thoughts below.