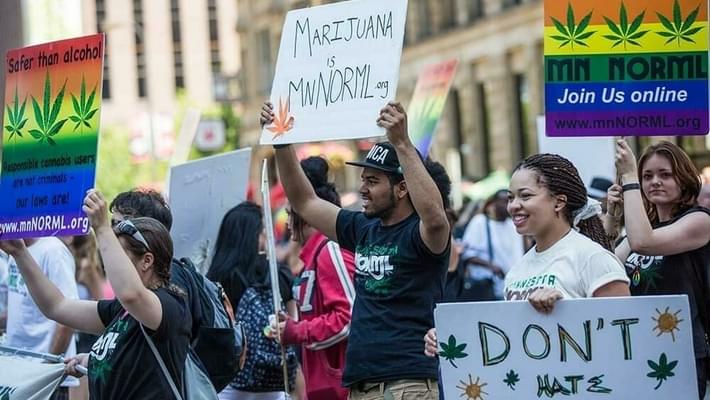 Cannabis Legalization Advocates You Should Know
As it becomes easier and easier to obtain marijuana for medical and/or recreational use in states across the U.S. legally, it is important to remember the struggles that marijuana advocates have had to endure in the fight for the legalization of marijuana. After all, while the legal industry might be widely popular and accessible to the vast majority of the nation, it's still technically federally illegal. But, of course, times have certainly been worse for the legal industry.
Today the legal cannabis industry is a thriving, ever-growing, multi-billion dollar industry, with 18 states legalizing recreationally and another 39 states and U.S. territories, and the vast majority of that progress is thanks to a handful of activists that you likely have never heard of.
That's where we here at Where's Weed come in. We want to shed some light on these often-overlooked figures in the history of the legal cannabis industry, introducing a new generation of cannabis consumers to the figures that pushed to make it possible for the industry to exist in the first place!

Vilification of Cannabis
To understand the history of cannabis legalization and the figures behind it, we first need to understand how and why cannabis was ever made illegal in the first place. Thanks to the Reefer Madness era of government-sanctioned lies and pseudoscience, cannabis was made widely illegal pretty much everywhere in the U.S.
The perception of marijuana began to change for the better as Mexican immigrants moved north to flee the revolution and subsequent upheaval that began in Mexico in 1910. Searching for peace and jobs, some of the Mexicans brought what they called "marijuana" and smoked the weed that they believed had medical and social benefits. Enter Harry Anslinger.
The first commissioner of the Federal Bureau of Narcotics, Anslinger unilaterally decided to begin a war on cannabis completely based on his own racist views. He claimed that the majority of marijuana users were Blacks and Latinos and used marijuana prohibition as a tool to infringe on the civil liberties of people of color. Anslinger essentially used racist rhetoric and associated it with cannabis use by immigrants and minorities. White Americans quickly fell in line with his idea that this still relatively obscure drug was being used by undesirables and was a danger to the country and society. The harsh policies advocated by Anslinger continued in the 1970s and '80s after Richard Nixon declared a "War on Drugs" and into the 90s with the infamous Three Strikes Law.

Cannabis Legalization Advocates
Thankfully, over the past 50 years or so, there have been individuals willing to put their livelihoods and personal safety at risk to further the cannabis cause and allow legal access to medical and recreational marijuana. Here are seven legal weed advocates who deserve recognition and thanks for their efforts.

California was the first state in the nation to legalize cannabis for medical use and we largely have Peron to thank. He was a vocal proponent of marijuana reform and co-authored California's momentous Proposition 215. He was a beloved figure in his San Francisco community where he co-founded the iconic San Francisco Cannabis Buyers Club to assist those suffering from AIDS and cancer in 1994. Peron was a regular target of law enforcement as they vainly attempted to curb his campaign in the early 1990s, but the Vietnam Veteran remained steadfast in his belief in cannabis as medicine. Peron received significant attention in 2010 when he voiced his opposition to recreational legality in the form of California's Proposition 19 due to what he deemed as a lack of clarity about what the proposition meant by "recreational use." "We already have legalization," Peron said. "We just have patients not admitting it." Peron died in 2018 due to complications from lung cancer.


The "Emperor of Hemp" is one of the best-known pro-marijuana warriors thanks to the strain that bears his name and his seminal book, The Emperor Wears No Clothes. Originally published in 1985, the book outlines how cannabis prohibition in the U.S. is the result of 1930s governmental policy designed to protect the vested interests of the ruling class of reactionary conservatives, oil barons, publishers, and politicians. Herer was one of the first marijuana advocates to describe how the cannabis plant could be used as a renewable source of medicine, energy, paper products, and food. He also championed the use of hemp for mass-produced products like shoes and clothing and founded and served as the director of the influential marijuana legalization organization, Help End Marijuana Prohibition (HEMP). Herer died in 2010 from complications related to a 2009 heart attack.


Since the 1970s, D'Angelo has been fighting against marijuana prohibition and working to develop the American cannabis industry by achieving a number of firsts. He is the co-founder of Steep Hill, Inc., the first commercial cannabis lab in the country and leading testing and research company. He is also co-founder of Arcview Group, the first cannabis investment firm in the U.S. and a major player in market research and cannabis finance. The "Father of the Cannabis Industry" co-founded Harborside, Inc., an umbrella organization that includes the pioneering Harborside Health Center in Oakland, California, one of the oldest and most revered dispensaries in the nation.

West has been dubbed the "Martha Stewart of Marijuana" due to her eponymous cannabis lifestyle brand and her success in mentoring and advising other women with her organization Women Grow. Women Grow is the industry's largest professional female networking organization and was created to "connect, educate, inspire and empower the next generation of cannabis industry leaders by creating programs, community, and events for aspiring and current business executives."


In 1970, Stroup formed the National Organization for the Reform of Marijuana Laws (NORML) and hasn't looked back. The pioneering organization has been working to change societal opinion about marijuana and campaign for legalization, policy reform, and decriminalization of marijuana-related offenses. A graduate of Georgetown Law School, Stroup has helped to spawn marijuana activist groups across the country and remains a driving force in the fight to end aggressive policing and sentencing practices by law enforcement related to cannabis.


Lee has been a force in fighting for legalization - primarily in California - thanks to his founding of Oaksterdam University and his passionate and vocal support for 2010's Proposition 19, which planted the seed for California's cannabis legalization in 2016. Lee's ability to garner community support and signatures for cannabis policy initiatives paved the way for others to petition state legislatures to end marijuana prohibition.

Last but not least, we want to highlight Mary Jane Rathburn, a long-time legal cannabis advocate known as "Brownie Mary," and her mission to normalize cannabis as medicine.
Known today as the "Florence Nightingale of the medical cannabis movement," she worked alongside other legal cannabis pioneers like Dennis Peron to sell cannabis-infused brownies all over San Francisco. Her cannabis-infused treats helped people with HIV, a then-unknown illness that was ravaging the LGBTQ+ community in the Bay Area, better to control their appetite, mood, and nausea. From there, she started handing out brownies for free, famously donating her social security and brownie selling profits to the cause. She was an advocate and ally throughout the 80s and helped bring attention to the spread of HIV into mainstream attention at a time when elected officials were happy just to try to sweep it under the rug.
She is a shining example of what good advocacy looks like, is a leading figure in helping prove the validity and value of medical cannabis, and carves out her place as an early cannabis industry advocate and early leader.

Marijuana Advocacy Groups
Are you interested in becoming a cannabis activist yourself? If so, here are a few marijuana advocacy groups (in addition to those noted above) that are carrying the torch for legalization efforts across the country.
MPP's mission is to end the prohibition of cannabis. They're a great resource for learning about cannabis laws in particular states, ongoing legalization efforts in states throughout the U.S., and staying updated with the legal battles surrounding legal cannabis.
The organization believes marijuana should be removed from the federal criminal justice system and regulated like alcohol and tobacco. They're a wonderful resource for learning more about the past and present of criminal and racial justice when it comes to cannabis.
CSDP advocates the regulation and control of marijuana in a manner similar to alcohol and subject to local options. Similar to MMP, CDSP is a wonderful resource for ongoing legalization efforts of both recreational and medical cannabis legalization, decriminalization, and normalization efforts all around the country!

Do you know of any other legalization advocates we might have missed? Let us know in the comments below!