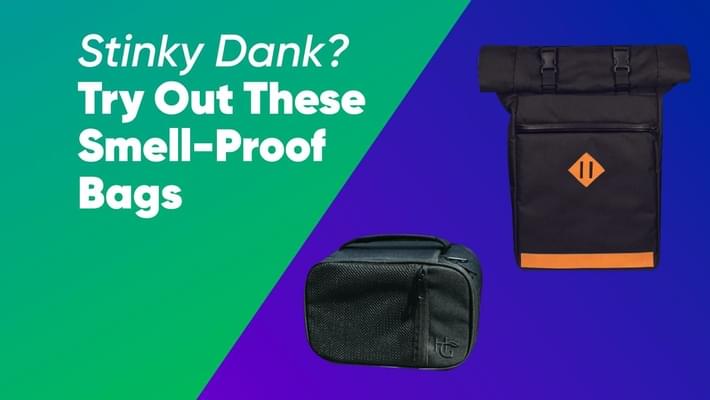 Stinky Dank? Try Out These Smell-Proof Bags
No matter what your favorite strain of cannabis is, you can be sure that other people will be able to smell it after a puff or two. If you go out in public, you may not even need to smoke it for other people to smell it: a sandwich baggy full of bud will leave an odor that leaves little doubt about what is inside. There are ways to mask the smell of cannabis smoke when you are toking, but if you want to take it out and about, you will need something that prevents the scent. Smell-proof bags are a new innovation in the cannabis space, allowing stoners to take all manners of good bud with them without worrying about someone noticing.
Smell Tell
Smell proof bags for weed are an improvement over many traditional ways to mask the smell of cannabis. Burning incense, for example, can cover up the smell of cannabis but cannot be done on the go and is not exactly subtle - if you do not burn incense as a hobby, not many people will be fooled. Likewise, Febreze is not always capable of covering up the most intensive cannabis smells and should never be applied directly on cannabis. Finally, some backpacks are designed to mask the smell of cannabis, but a simple glance at their logo will reveal their purpose. This makes smell-proof bags for marijuana a must-have for the toker on the go. Here are some of the best on the market.
Smell-Proof Bags Worth Trying in 2023

One of the industry leaders in cannabis fashion, Dime Bags makes many different products that appeal to cannabis enthusiasts. They offer full-size backpacks capable of carrying an entire pound of cannabis and smaller, smell-proof stash bags that include locking features to keep grubby paws out. Their padded pouches include rolling trays to easily assemble a good joint. Want to go all out? For $170, you can buy their Transporter, including an Omerta lock and key assembly with airproof storage spaces.

Calling themselves the original stash inventors, Stashlogix first came into the market in 2014 as a way to keep kids from getting into mommy and daddy's good bud. Their smell-proof bag products are incredibly durable, able to take a hit in the great outdoors and keep going. With accessories that include a complete rolling kit (papers, cones, and tips included), Stashlogix is a one-stop shop for any stoner interested in expanding their collection.

A cannabis accessory company that first put down roots in 2000, Ryot has been ahead of the curve in many ways. Their collection of bags and accessories reflects this trend, with everything from bongs to backpacks. Ryot bags run the gamut from the very expensive (the $200 DRY+ backpack) to the very modest (the $20 flat pack). Their products are double-layered to keep the smell in and the damp out. Their bags have custom pockets to store grinders, papers, and pieces as needed.

Ooze refers to their vape pen as the best in the business. Whether that's true is a matter of opinion since Ooze has plenty of competition. Nevertheless, they offer a stylish tote bag with smell-proof pockets whenever you need to get your bud from Point A to Point B. Unlike other companies on this list, Ooze has just one smell-proof bag, their grocery tote. What they lack in quantity, they make up for in quality: this bag is beautifully rendered in surrealist cartoon art, while it is tough enough to transport both your cannabis and your other errands.

"Clean" may be the best way to describe Herb Guard's line of products. Their smell-proof containers resemble airport luggage, while their cleaning supplies are second to none for removing residue or crumbs. With bags that include premium zippers and combo locks, Herb Guard does just what the name suggests, making them great for times when you want to ensure that nobody else gets access to your cannabis. With products that range from $150 suitcases to $10 sets of individual bags, there is something here for every budget.

The only company on this list that is not specifically in the cannabis space, Abscent bags are tailor-made to eliminate all odor, not just the smell of sticky icky. Their line of suitcases, gym bags, and hand totes are excellent for all manners of customers, with cross-functionality whenever you need to do many things besides just getting baked. Their products range from $20 pouches to $400 duffel bags, making them flexible for anyone who wants to move a little or a lot of pot.

Click on the Reefer Boss website, and you will find many more cannabis bikinis than cannabis bags. Sex does sell, but that doesn't mean their bags are second-rate. Their stashboxes, cases, and bags are all lined with smell-proof materials, and while none are larger than a small tote, they seal the deal so that you cannot smell anything inside. Carbon lining is the key: this smell-absorbing material makes it impossible to detect anything outside, which is why they advertise them as being tested by canine sniffers.