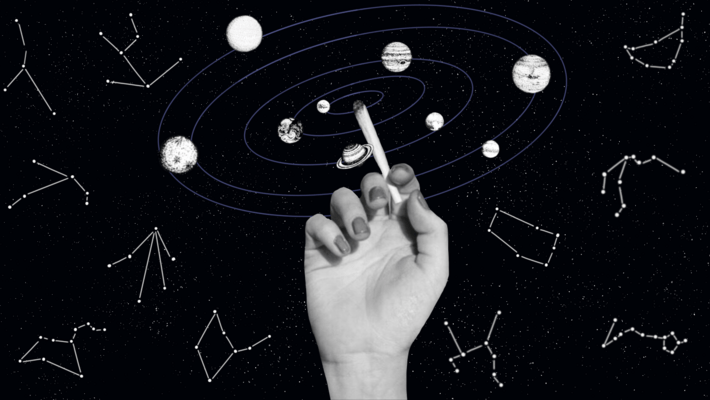 Choosing a Cannabis Strain for Your Zodiac Sign
With current events being stranger than ever, many millennials and Gen Z-ers are turning to astrology to look for the answers. Cannabis users are naturally curious people, so we're diving into how astrology and cannabis can intertwine. This article was made with a bit of fun in mind, so sit back, roll up a joint with one of the strains of weed that pair with your zodiac sign.
What is Astrology?
Astrology is a form of divination, that forecasts earthly and human events through observation and interpretation of the fixed stars- the sun, moon and the planets. There is an assumption that celestial bodies, or constellations, determine and indicate changes in the sublunar world. Astrology is based on 12 zodiac signs, which is a star sign given to each person based on when they are born. This star sign comes from someone's birth chart, a snapshot of the sky at the exact moment when they were born.
Cannabis & Astrology Coming Together
One thing that we can all agree on is that all of the signs love to smoke cannabis and get high, right? Astrology is all about diving into a person's emotions and psyche, and people smoke cannabis to regulate those emotions. As cannabis users are smoking up and thinking about the spiritual and otherworldly realms it's only natural that we pair each zodiac to their top cannabis strains, which are found below.
Aries

You are a passionate, bold and extremely ambitious person in life. You love to dive headfirst into challenges and have no fear in accomplishing any task. You need a strain that can keep, so a strong sativa strain will do the trick here. Jamaican Dream, a 90% sativa, is among the best weed strains to keep up with your passion, giving you an elevated mood and weightless euphoria to start your day right.
Taurus

You like to relax in the serene, soft sounds of life. You're the most sensual sign, who just loves to be adored and pampered. There are many on the list of strains that would pair well with your sign, but an indica such as Forbidden Fruit will deliver a delicious flavor and terpene profile while giving you the deep body relaxation that you crave on a daily basis.
Gemini

As a Gemini, you are known for an intrinsic duality and often feel the need to double yourself to achieve everything you want. As a social butterfly with a variety of passions, you need a strain that can do both. White Widow, among the popular hybrid strains and also considered to be one of the best hybrid strains ever, will deliver creativity and social feelings.
Cancer

Cancers are highly intuitive, emotional, extremely self-protective and are also considered to have a hard exterior. However, when you break down, there is a very gentle side to you underneath it all. You exist in both the emotional and material world and need a strain that does, too. Cherry Pie is the strain for you: an indica-dominant hybrid that is among the popular strains known for its versatility and is enjoyable in all settings.
Leo

This sign is known for being vivacious, passionate and a true spotlight lover. They enjoy a royal status, so why should their weed strains be any different? Leos crave a strong sativa to keep up, and one of the best strains of all time in the sativa family is Jack Herer. This strain will launch you into a clear-headed, blissful state while not delivering you a massive comedown.
Virgo

You are deeply logical, practical and systemic in your thinking. Known to be a perfectionist and constantly sharpening your skills, you'll need a sativa strain to give you an intense focus with a creative burst. Among the best cannabis strains to deliver this is Lamb's Bread, which is known to give major amounts of energy while also delivering a positive introspection.
Libra

As the only sign with the symbol of an inanimate object, the scale, you are a lover of all things in harmony and balance. You are constantly striving for equilibrium in life, so there is no doubt a hybrid strain is what you should be after. As one of the first balanced CBD & THC hybrid strains, Cannatonic is perfect for keeping your mind clear and motivated enough to keep
Scorpio

Often considered to be a misunderstood sign, you find your strength in your emotions. You have an intense passion, which gives you power. When contemplating indica vs sativa, either could be beneficial, however, we believe that an indica should be your go-to. Reach for Strawberry Banana, an indica that won't be completely sedative and while giving you a relaxed mental high.
Sagittarius

As a Sag, you're always on a mental knowledge quest, while constantly launching many pursuits. However, you're quite stubborn and sometimes a bit too honest. Perhaps a classic indica strain, such as Hindu Kush will help quiet your racing mind, as these effects can be pretty heavy and long-lasting and perfect for stress relief.
Capricorn

Known as the workaholic of the signs, you're extremely focused and practical. Try an indica strain to release any sort of stress, while easing into your emotional side that we know you have. Northern Lights is a luscious indica and is practically among the best strains of weed for creating a seductive body and mind high.
Aquarius

You're quite eccentric compared to other signs, and a freedom seeker while also being considered a humanitarian and healer. You need a strain that is as eccentric and uplifting as you are, so turn to the sativa strain Candyland. This strain will keep your positive spirits high and is perfect for socializing and creative ventures.
Pisces

You have a difficult time finding the line between fantasy and reality and are known to absorb and feel everything deeply. You're intuitive, but you're often in a world of your own. There's no need to bring those feelings down, so a sativa such as Super Lemon Haze will keep you uplifted, happy and giggly all day and sure to send you off into your fantasy land.
Do you agree with your strain pairing? Are there any that we got wrong? Let us know your thoughts, plus drop us your sign and favorite strain below!